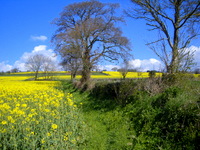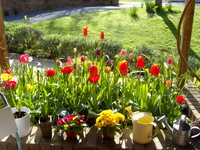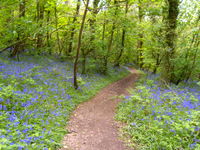 The three months of spring are called the time of releasing the stale. Heaven and Earth rise together and the ten thousand things thrive. It is a time to sleep in the evening and arise early. Walk in the courtyard; absorb the radiance and relax the body. – Sùwèn (3rd-2nd century BCE)
For the purposes of this article, the period of spring is around early March to mid-May. It is defined usually by milder days and an increase in activity in nature. We have enjoyed daffodils for a few weeks already, and an unusually warm, sunny February. We arrive soon though at the equinox, at which point we truly move into the more Yang phase of the annual cycle. The length of the day will then for the next six months, become greater than the length of the night.

The Chinese character for spring depicts the sun (the rectangle with a horizontal bar bisecting it) pushing up the vegetation from below. In its own way, this is quite correct. The sun's energy was chemically stored in the seed or roots beneath the soil the previous summer, and is producing this growth now.
Whereas in winter, Chinese wisdom teaches us to retire earlier to bed and to rise later too, with the coming of spring, we should continue to retire early, but can now begin to rise earlier. The mornings are getting progressively lighter, and the birds are greeting the dawn with enthusiasm and joy in their song. This is a time of day which offers you the opportunity of a moment of meditation, a moment which will stand you in good stead for whatever the rest of the day may hold. Try to take a walk before work, or even just sit in your garden. The Qi at this time of the morning is fresh and renewed, like a sparkling, clear brook from which you can sip. If you cannot be outside, then begin the day with some stretches, as if awakening your body from its long, winter sleep.
In early spring, the Chinese teach that the body's pores are beginning to open. This is considered to reduce our resistance to cold. Because cold weather might still linger through the first half of April, we should not therefore cast off too many layers of winter clothing prematurely. Our own cultural parallel is of course, "Ne're cast a clout 'till may is out." This probably means do not abandon your winter clothing until the may or hawthorn tree blossoms, again usually after some warmer days in late April. If you feel at all chilly, then you are underdressed, and need to take prompt action.
We can also now become generally more physically active again. For some it may mean returning to a favourite outdoor sport. For others, it might mean engaging with the garden. Be careful to avoid a springtime injury, by just building back up to things gently.