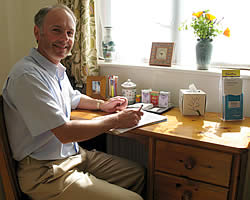 Welcome to my website, and to the chance to enjoy an improved quality of life. I offer acupuncture in Exeter, alongside shiatsu and tuina (Chinese massage), from a tranquil clinic a mile from the city centre, and next to the University of Exeter. I do it because I greatly enjoy practising a medicine which looks at the whole of you and which encourages your body to heal itself. I will treat you, not just your illness, and help you towards greater happiness and positivity.
Robin Costello BSc. DipAc. MBAcC. CertAc(China)
Duryard Valley Clinic, 5 High Croft, Exeter EX4 4JQ
To book an appointment now, or for friendly advice about any condition, you can telephone me on 01392 424276.
For information about receiving acupuncture during the coronavirus outbreak, please see my Frequently-Asked Questions.
Clinic Hours: 8.00am to 6.00pm Monday to Friday.
Member of the British Acupuncture Council.
Established 25 years
Gentle introductory treatments for new or anxious patients.
Urgent cases seen quickly.
Parking.
For regular tips on healthy living and health research, you can Like my Facebook Acupuncture Page.