Robin Costello BSc. DipAc. MBAcC. CertAc(China)
Duryard Valley Clinic, 5 High Croft, Exeter EX4 4JQ
Tel: 01392 424276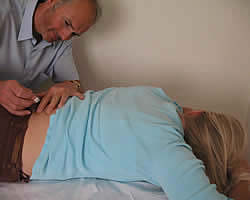 I graduated originally from the London School of Acupuncture and Traditional Chinese Medicine's 3 year full time Acupuncture Diploma (DipAc) course. I am on the practitioners register of the British Acupuncture Council (MBAcC), a regulatory and professional body with an entry standard of a full three year undergraduate degree level training.
I have worked in a hospital in south west China, deepening my knowledge and using acupuncture and Chinese massage (tuina) as the treatment of choice in its country of origin. I have taught Chinese medicine in colleges, the NHS and at university level. I also practise Qi Gong, and Chinese dietary therapy, that is the medicinal use of ordinary foods, chosen to help achieve particular therapeutic effects in different individuals.
Having graduated in 1994 from the European Shiatsu School's three year diploma course, I possess the dual qualification of shiatsu practitioner. I value bodywork and may include some Chinese massage (tuina), shiatsu or Swedish massage in my treatments, or give you exercises to practise.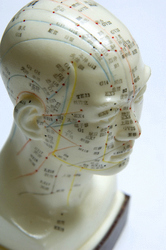 For patients who are nervous, or who are new to acupuncture, I specialise in gently paced and reassuring introductory sessions. There is ample time to answer your questions.
My clinic premises are registered with, and have been inspected and approved by, Exeter City Council's Environmental Health Department.
Through membership of the British Acupuncture Council, I am on a voluntary register which has been accredited by the Professional Standards Authority. This is a scheme set up by the Government to improve standards and safety for the benefit of the public, and explained in their short video. Accreditation demonstrates my commitment to high professional standards, to enhancing safety, and to delivering a better service. The General Medical Council allows GPs to refer patients onwards to practitioners on a register accredited by the PSA.