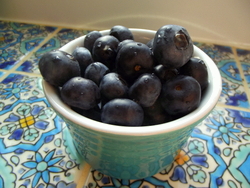 Researchers at Florida State University in the US have found that daily consumption of blueberries for only eight weeks, resulted in significant reductions of blood pressure in post-menopausal women. Although hypertension is associated with aging in both sexes, the increased incidence particularly of raised systolic blood pressure in women after menopause, exceeds that in men.
Forty-eight women were recruited to participate in an eight-week, randomized, double-blind, placebo-controlled trial. Investigators found that daily incorporation of 22g of freeze-dried blueberry powder, equating to one cup of fresh blueberries, into the diet of postmenopausal women with hypertension, improved blood pressure and arterial stiffness potentially through enhanced nitric oxide-mediated vasodilation. At the conclusion of the study, mean systolic blood pressure was lower by 5.1% and mean diastolic blood pressure was lower by 6.3% in the subjects in the blueberry group, with no corresponding lowering in the placebo group.
Among all fruit, blueberries are one of the richest sources of phenolic compounds, including flavonoids, phenolic acids, and stilbenes, which are known to have biological activity and high antioxidant capacity. They are a promising food with respect to vascular health.
(Daily Blueberry Consumption Improves Blood Pressure and Arterial Stiffness in Postmenopausal Women with Pre- and Stage 1-Hypertension: A Randomized, Double-Blind, Placebo-Controlled Clinical Trial. Journal of the Academy of Nutrition & Dietetics, published on-line 7 January 2015.)