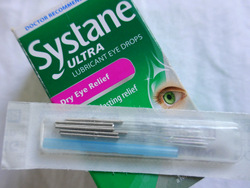 Investigators at the Singapore Eye Research Institute have found that acupuncture can help dry eyes by providing benefits in addition to those provided by artificial tears. A total of 150 patients aged 40 to 85, were randomly allocated to receive either artificial tears alone (Systane Ultra four times per day), artificial tears plus eight acupuncture sessions (delivered twice a week), or artificial tears plus a Chinese herbal supplement traditionally used for dry eyes. Treatment took place over a one month period.
Compared with the group using artificial tears alone, the acupuncture group reported lower symptom scores, and also reduced conjunctival redness. Inflammatory cytokine levels in tear fluid were significantly reduced following acupuncture. The herbal supplement did not significantly alter symptom scores. No adverse effects of acupuncture were noted.
The researchers conclude that treatment involving predominantly eye drops usually provides only temporary symptomatic relief. This study suggests that 30% of people with dry eye may not actually obtain relief from drops, so alternative treatments should be explored. For mild to moderate dry eye, acupuncture can be considered, provided that there is access to suitably trained and accredited professionals.
(Acupuncture & herbal formulation compared with artificial tears alone: evaluation of dry eye symptoms & associated tests in randomised clinical trial. BMJ Open Ophthalmology, 18 June 2018.)