In this short article, I shall discuss acupuncture treatment for headaches and migraine. Although I will refer below just to headaches, references should be taken to include migraines. More than ten million people in the UK experience regular headaches, and the condition accounts for 1 in 25 GP consultations.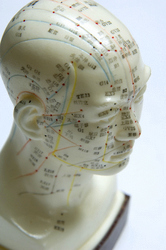 In 2012, the National Institute for Health and Care Excellence (NICE) issued updated advice to doctors on the treatment of headaches. For tension headaches, acupuncture is recommended as the treatment of choice. For migraine, acupuncture is also suggested where the usual drugs are either ineffective or unsuitable (due for example to patient preferences, interference with contraception, or the risk of adverse reactions). More recently, the prestigious Cochrane Collaboration has supported the use of acupuncture to treat tension headaches.
Take a look at the British Acupuncture Council's one minute video on migraine treatment.
You can also read in the prestigious journal Neurology Today, an account of how two American neurology professors make use of acupuncture to treat headaches. One says, "I can tell you that it's not controversial within our neurology department. Everybody embraces it and has been able to see the value in it."
Headaches in my experience are generally very responsive to acupuncture, and I always find them interesting complaints to treat. I begin by finding out from you all about the nature of your headaches. Often they will have been going on for quite a while, and you'll be readily able to answer questions about their characteristics. You may or may not have a diagnosis from your doctor, but one of my jobs is to formulate a Chinese medical diagnosis. To facilitate this, I will ask you about such things as the location of the pain (eg forehead, temples, back), the nature of the pain (eg dull, heavy, throbbing), any accompanying symptoms (eg nausea, visual disturbance), any trigger factors (eg stress, weather, tiredness, tight shoulders), and timing (eg time of day, weekdays, weekends, premenstrually, even a seasonal surge). I will also ask about any medication you have tried and about any other treatment to date. As usual, we will go on to cover your health and wellbeing in a wider sense, to see whether there is anything else which I might connect with your headaches.
I will usually offer treatment weekly for a set period, or twice per week initially if your headaches are particularly severe and frequent. I might ask you to keep a simple headache diary so that as the weeks go by, we can measure your progress, and there will usually be some lifestyle recommendations to help you aswell.
Regarding migraine specifically, Migraine Action in 2010 gave its "Best Complementary Therapist for Treatment of Migraine" award, to a traditional acupuncturist, and continues to recommend acupuncture as an option for patients.
Elsewhere on my website, you will find more information on what to expect from a consultation in general, but I hope the above has been helpful with regard to acupuncture treatment for headaches. Below, you can also read about some of the scientific research which has been performed on acupuncture for headaches and migraine.