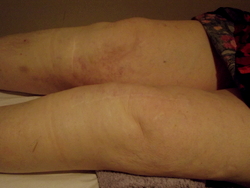 An analysis commissioned by the UK's National Institute for Health Research, of a number of good quality, randomised, controlled trials, shows acupuncture should be considered one of the most effective treatments for short-term alleviation of knee pain from osteoarthritis.
The researchers conducted a network meta-analysis, allowing comparison between multiple interventions which have been used to treat the same condition. Data was gathered from 114 studies, in which over 9700 patients were treated with 22 different modalities. Eight modalities, including acupuncture, were found to have provided statistically significant pain reductions compared with standard care. When only higher quality trials were considered, only acupuncture and muscle-strengthening exercises demonstrated any benefit; both these approaches were significantly better than standard care alone, with acupuncture being better than muscle-strengthening, standard care, weight loss and aerobic exercise.
Acupuncture also outperformed most of the physical therapies recommended by the National Institute for Health and Care Excellence (NICE) in its guidelines on the treatment of osteoarthritis of the knee. In fact, although this study did not assess cost-effectiveness or disability, little evidence was found to support the current NICE guidelines. Acupuncture had an effectiveness comparable with that of drug treatments, and the report's authors recommend it is considered to be an evidence-based treatment with a credible role in the management of pain due to knee osteoarthritis.
(Acupuncture and Other Physical Treatments for the Relief of Pain due to Osteoarthritis of the Knee: Network Meta-Analysis. Osteoarthritis Cartilage, September 2013.)
You can view this comprehensive, 206 page report at http://www.york.ac.uk/inst/crd/CRD_Reports/crdreport40.pdf.