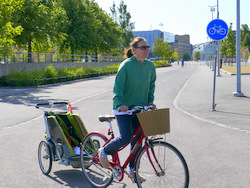 American researchers have found that morning and evening exercise offer different benefits to men and women. For women, morning exercise reduces both abdominal fat and blood pressure, whilst evening exercise improves muscle performance. In men, evening exercise is preferable if the aim is to reduce blood pressure.
Teams from Skidmore College, NY, and the State Universities of Arizona and California, recruited 30 women and 26 men. All were already exercise-trained, and aged 25 to 55. They were all given a 12 week multi-modal exercise program (resistance, interval, stretching & endurance), and randomised to perform it in either the morning (06.00 to 08.00) or evening (18.30 to 20.30). Participants were given a meal plan with timings, and had access to advice from a dietician. At baseline and week 12, measurements were made of strength, endurance, power, body composition, blood pressure, and dietary intake.
At week 12, 27 women and 20 men completed the study. For women, morning exercise improved lower body peak power, and reduced abdominal fat percentage, total body fat mass, and blood pressure, whilst evening exercise enhanced endurance and upper body strength.
For men, evening exercise increased fat oxidation and the ratio of total cholesterol to HDL cholesterol, whilst reducing systolic blood pressure and fatigue. Men showed no difference in physical performance or body fat variables with time of day. They did show significant improvements in mood state, regardless of time of day.
The research team concludes that clinicians and fitness trainers aiming to more precisely target one outcome over the other, should bear in mind time of day when making physical activity recommendations to patients and clients.
(Morning Exercise Reduces Abdominal Fat and Blood Pressure in Women; Evening Exercise Increases Muscular Performance in Women and Lowers Blood Pressure in Men. Frontiers in Physiology, online 31 May 2022.)