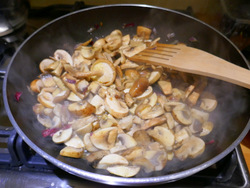 Research by Penn State College of Medicine in the US, suggests that a higher mushroom consumption is associated with a lower cancer risk. Seventeen observational studies looking at mushroom intake and cancer risk, published between 1966 and 2020, were included in the systematic review and meta-analysis.
Higher mushroom intake was associated with lower overall cancer risk, and with lower breast cancer risk in particular, although the latter could simply reflect the smaller number of studies on prostate, liver, stomach, ovarian and colorectal cancers. To put it into figures, a dose-response meta-analysis indicated that a mushroom consumption of 18 g per day, was associated with a 45% lower risk of total cancer, compared with zero dietary intake.
The authors speculate that the beneficial effects of mushrooms may stem from antioxidant properties imparted by the ergothioneine and glutathione found in mushrooms.
(Higher Mushroom Consumption Is Associated with Lower Risk of Cancer: A Systematic Review and Meta-Analysis of Observational Studies. Advances in Nutrition, 16 March 2021.)