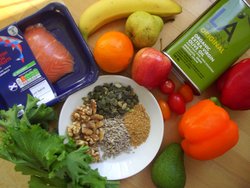 A new study by Brazilian researchers suggests an association between adherence to the Mediterranean diet, and bone density and muscle mass in post-menopausal women. This diet involves a high intake of fruit, vegetables, grains, potatoes, olive oil and seeds, moderately high fish intake, plus low saturated fat, dairy and red meat consumption, and regular but moderate intake of red wine. The Mediterranean diet has previously been linked to a lower risk of heart disease, diabetes and cancer.
A total of 103 healthy women from southern Brazil, average age 55 and who had gone through menopause a mean 5.5 years earlier, underwent measurements of their bone mineral density, total body fat and lean mass. The subjects also completed a food questionnaire about what they had eaten in the past month.
A higher Mediterranean diet score, meaning better adherence to the Mediterranean diet, was significantly associated with higher bone mineral density measured at the lumbar spine, and with greater muscle mass. This association was independent of whether the women had previously used hormone replacement therapy, their smoking behaviour or their current level of physical activity.
(Mediterranean diet is linked to higher muscle mass, bone density after menopause. The Endocrine Society, on-line press release 20 March 2018.)